About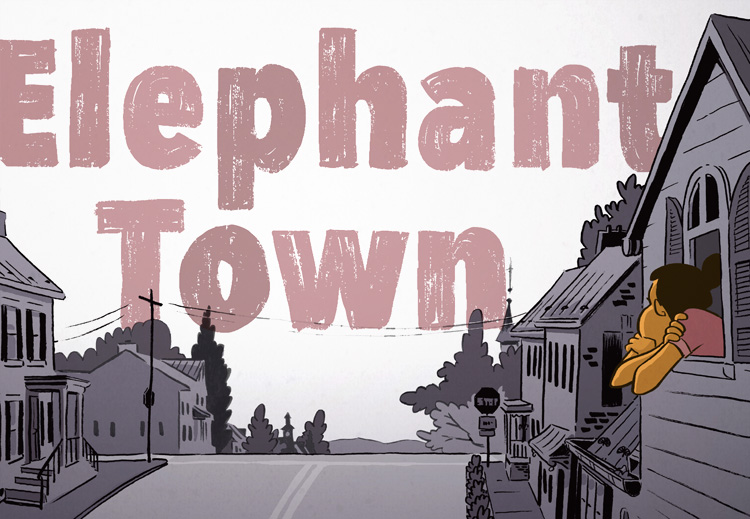 About Elephant Town
Elephant Town is the slow-burn tale of Kris, Paul, Berto, and Miranda, four people who live in the same house, but don't know each other. But when you live in a town as small as Shepherdstown, you're never far enough from your neighbors, especially when you share a wall.
New chapters will be posted here a week or two after I finish them (~every 2 months). You can sign up for an email whenever a new chapter is posted, use RSS, or you can read the story early every Monday as I create it via Patreon (see below!).
Once the book is complete, Elephant Town will be a 600ish-page graphic novel that's best read as a book in your lap. It'll be a big book! Don't skip lap day, it's gonna take a strong lap to hold this one.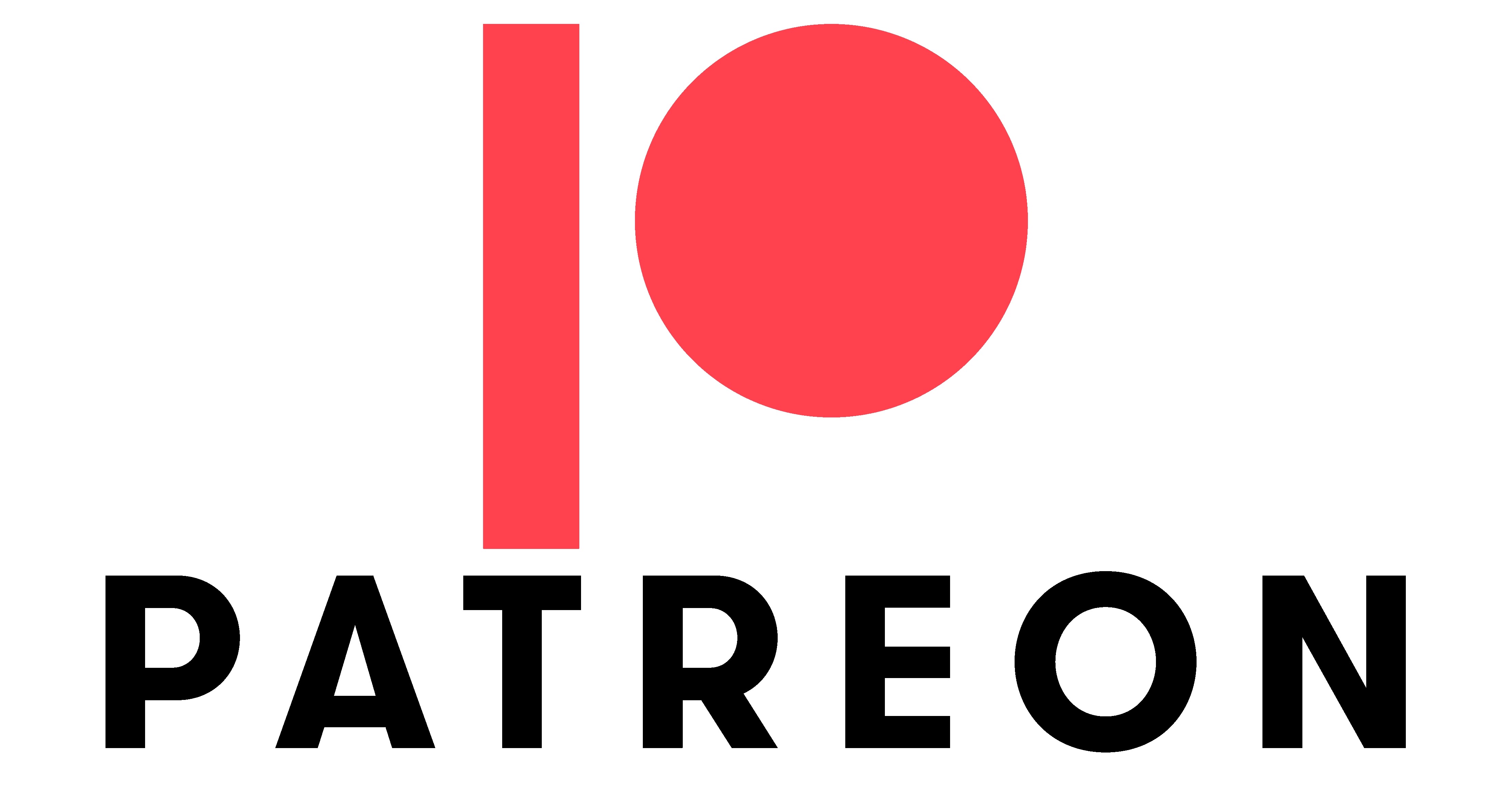 About Patreon
Elephant Town is entirely funded by reader support via Patreon. This is basically an experiment in publishing; as long as people want me to keep working on the story, and can support the project with small monthly donations, I'll keep creating it.
Patrons can subscribe at $2, $3, or $5 (or any custom amount) per month, and in turn you'll get to see the comic pages early (as many as I can finish every Monday), sneak peeks, sketches, figure drawings, and process posts. You can read more about the tiers on my Patreon membership page.
If you want to support Elephant Town in a non-money way, share this website with a friend you think will like it! You can also just hit "FOLLOW" on my Patreon page instead of choosing a tier; I occasionally make unlocked posts that you can see for free. Whatever thing you do to help ET keep going, thanks for doing that thing!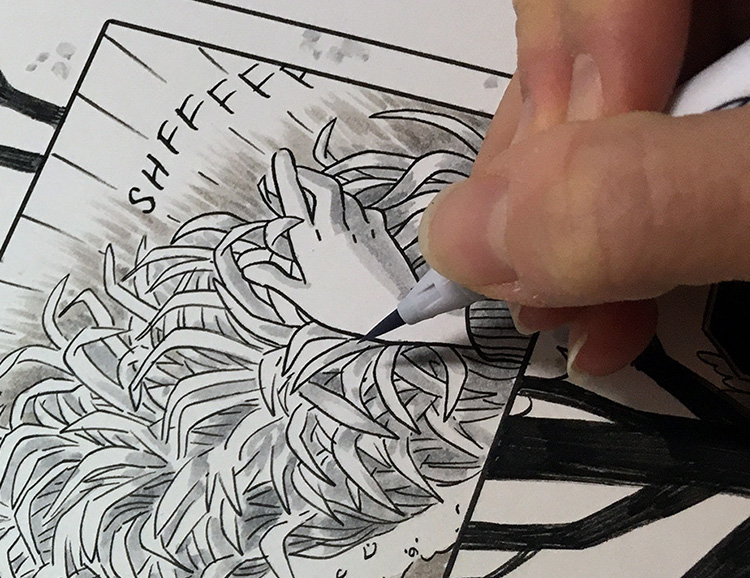 Process Nerdery
For you process nerds out there, Elephant Town is penciled digitally, inked traditionally, and then colored digitally. Pencils are done in Procreate, then printed backwards on Canson XL recycled bristol board, and inked on the other side using a Monoprice light table. (Props to Lucy Knisley for teaching me that trick!) I letter by hand with an 05 Micron ( 08 for bold), and use Zebra brush pens to ink the linework. Some pages have an added grey wash using a Zig Clean Color light gray brush pen. The inks are then scanned with an Epson Perfection V600 Photo Scanner at 600dpi, bitmapped, and colored digitally in Photoshop.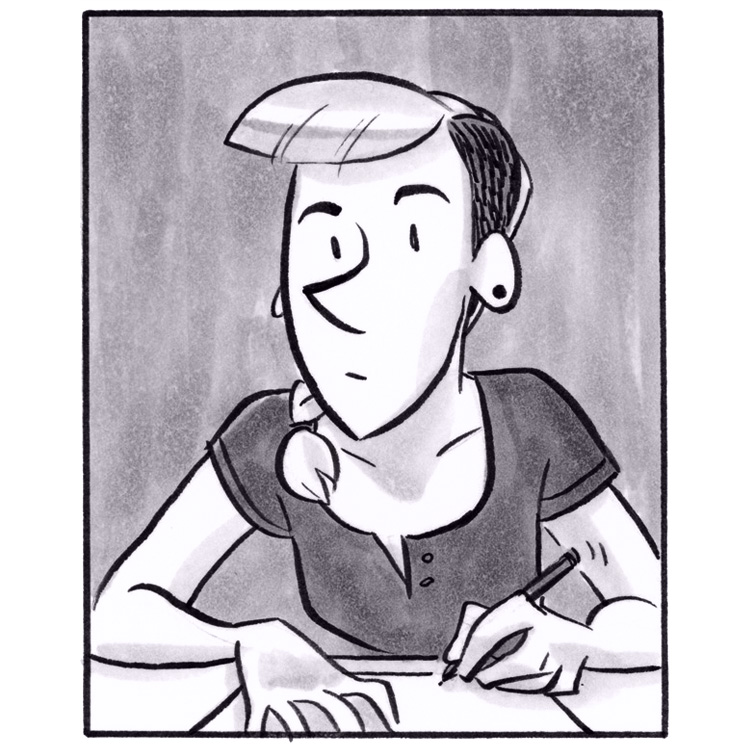 About Danielle Corsetto
I'm a cartoonist living in Shepherdstown, West Virginia, in a house older than America, surrounded by books and plants.
I'm best known for my webcomic Girls With Slingshots, which ran from 2004-2015 and won a Reuben Award in 2015. I've also written a few Adventure Time books, a sex ed comic for Webtoon called BOO! It's Sex, and a long time ago I brought Bat Boy back to West Virginia in a comic for the Weekly World News.
I've been 65 years old all my life and enjoy quiet mornings, gardening, all-day walks, shoegazy tunes, insects, campfires, partying with strangers, drawing people dancing, licorice, unzipping a tent, and traveling alone. My only routines are morning tea and falling asleep under a cat.
I try to ignore Twitter and Instagram (<-- mostly just Elephant Town pages awkwardly reformatted to IG posts), but my almost-weekly figure drawings are posted under this account. The best way to reach me is regular old email! dcorsetto@gmail.com